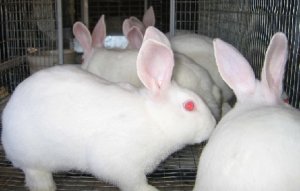 Our Rabbits
If you are looking for a simple way to provide meat for your homestead you might want to consider raising meat rabbits. Rabbit meat is tasty and very good for you. It is all white meat, has lots of protein, and is lower in fat than chicken, or beef or pork. Plus it is not, in my mind at least, as much of a challenge to raise a rabbit as it is cows or pigs. Rabbits can be raised in your backyard, even in the city!
For Sale
Cross Bred Mixed Rabbits

Young Buck Male Rabbit

Medium Size


Buck $6.00 Each

SOLD







Cross Bred Mixed Rabbits

Young Buck Male Rabbit

Medium Size


Buck $6.00 Each

SOLD









Cross Bred Mixed Rabbits

Young Buck Male Rabbit

Medium Size


Buck $6.00 Each

SOLD









Rabbits are very efficient. The milk of mother rabbits is very rich and helps the rabbits grow very quickly. You can have your rabbits ready to butcher in 10 to 12 weeks, dressing out at 4 to 5 pounds of meat.
Meat rabbits are a certain breed. They are usually large rabbits that will be around 10+ pounds when mature. The most common breeds of meat rabbits are New Zealand (Reds and Whites) and Californian. However these are not the only breeds.
Feed for rabbits usually consist of commercial pellets that are made of alfalfa and grains such as oats, wheat, barley, etc. And a good quality hay such as timothy or alfalfa. They also need fresh water at all times. Make sure to learn how much to properly feed your rabbit. If you over-feed your rabbits they will have problems kindling (giving birth).
Housing for rabbits usually consists of cages or hutches that are up off the ground. The rabbits need protection from wind and rain and possibly predators. They will need adequate ventilation as well.


Nutrition Information About Rabbit Meat
Rabbit meat is all white meat.
Rabbit has 795 calories per pound. Compare: chicken at 810, veal at 840, turkey at 1190, lamb at 1420, beef at 1440 and pork at 2050.
Rabbit has the highest percentage of protein.
Rabbit has a lower percentage of fat than chicken, turkey, beef, or pork with unsaturated fatty acids at 63% of the total fatty acids.
The cholesterol level in rabbit meat is much lower than chicken, turkey, beef, pork.
The U.S. Department of Agriculture has stated that domestic rabbit meat is the most nutritious meat known to man.
Research shows that rabbit meat has been recommended for special diets such as for heart disease patients, diets for the elderly, low sodium diets, and weight reduction diets.
Because it is easily digested, it has been recommended by doctors for patients who have trouble eating other meats.
Rabbit meat compares very favorably to veal.