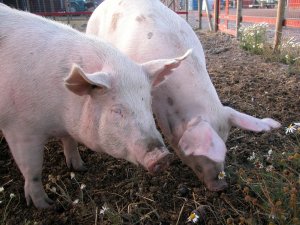 Baby Pigs For Sale
Typically these pigs will be around 250lbs and 5 months old when butchered.
Our pigs tend to have a great deal of meat. In the summer of 2005 we had a pig roast and used one of our pigs. The pig was 220 lbs dressed and we fed 200+ people with a lot of leftovers. The meat was moist and very tasty. I am told that you loose about 20-30% of the pigs weight with skin, bone and fat. So we sell our pigs at 250 lbs more or less which means you would end up with approx 175-190 lbs of meat.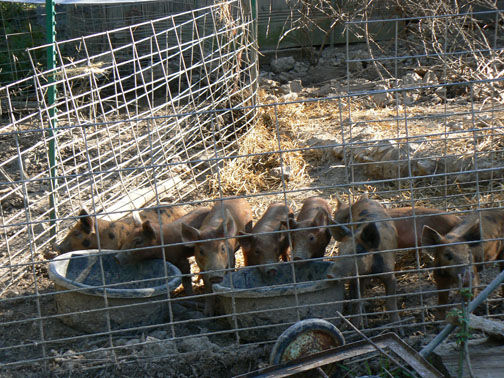 We currently have 1 Male Feeder Pig 3 months old For Sale Starting at $30.00 each and increasing to $40.00 each October 15th 2009
Our Hogs
Peach Tree Farm has a variety of baby pigs for sale for pets, breeders and feeders including standard bred litters and several special cross bred litters. Order early, they go fast!
About Our Baby Pigs:
Our pigs are outside from birth. They have pens they can go into to get out of the weather or to birth.
All of our pigs for sale are raised on the ground and given fresh milk twice per day. They have chemical free pig feed available 24/7. I enjoy raising different breeds to see the difference in growth, personality, mothering and of course taste of the meat.
We have pigs for sale nearly all year round. We sell pigs live, whole, half or offer selected cuts.
Roaster Pigs For Sale - Butchered Pigs For Sale
We typically have pigs for sale year round. The pigs for sale are available in whole, half and specific cuts. We feed all of our pigs fresh milk 2 times per day and all the chemical and antibiotic free pig feed they want to eat.
Call or Email for pricing and availability.

All payments must clear before we complete a sale.